---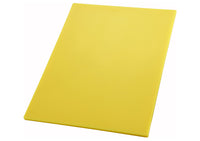 Perfect for a variety of food prep tasks, the Winco CBYL-1520 Yellow Plastic Cutting Board 15" x 20" x 1/2" is a must-have in any commercial kitchen. This NSF listed cutting board does more than just protect the countertop, it is also gentle on your knife's sharp edge.
Thanks to its high quality polyethylene construction, this BPA-free item is exceptionally durable making it ideal for heavy duty use. To prevent cross-contamination and ensure food safety, this yellow cutting board should be used specifically for slicing and chopping raw poultry in accordance with the HACCP color-coding system.
Polyethylene construction
Follows HACCP color-coding system, yellow for raw poultry
BPA free
NSF listed
Dimensions: 15" x 20" x 1/2"