---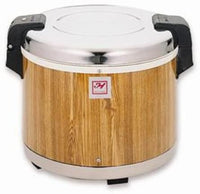 Thunder Group wood grain 30 cups/ 60 bowls rice warmer. The stainless steel rice warmers keep rice warm for up to 12 hours after it is cooked. This particular model holds 30 cups and has a wood grain accented body.  NSF and UL listed.
This NSF approved 30 cup rice warmer can keep rice warm 6-8 hours after it is cooked. It features a wood grain finish base and mirror finished stainless steel lid. It serves 60 bowls of rice and is intended for commercial use only. It is ideal for restaurants, buffets, brunches, catering events, parties, wedding banquets and self-service environments. A free rice spatula is included.
Serves 30 cups / 60 bowls
Keeps rice warm 6-8 hours
Spatula included
Stainless steel mirror finished lid and base with a wood grain finish body
Non-stick coating inner pot
Light stays on when rice is warm
Easy to open lid with durable handles and sturdy legs
UL and NSF approved
Ideal for restaurants, buffets, catering events, parties, wedding banquets and self-service environments
Voltage: 120V
Wattage: 100W 60Hz
For commercial use only
Dimensions: 15.5"L x 15.5"W x 11.5"H
Please note that this is a commercial quality rice warmer only. This warmer does not cook rice.
***Typically Ships Within 1~2 Business Days***
Contact us
Email: iprokitchenware@gmail.com
Tel: 718-633-3866 / 212-361-9976
shipping policy
Ground Estimated Shipping Times
Most products are usually in our warehouse and ready to go out within one business day. Although we do our best to ship all orders out within this time frame, we may not be able to do so during busy times or if there is a supply issue with the items on your order. If you need a product by a certain date, let us know by indicating the date in a reply email to your order confirmation email. If there are any problems in meeting your required date, we will let you know right away.

Once the product leaves our warehouse the time it takes to reach you is dependent on your geographical location. If you need your order more quickly, you may select Second Day or Next Day in your shopping cart (availability dependent on your location). These options guarantee that, as long as the items you're ordering are in stock, the order will be prioritized in our system and arrive by the end of the following business day (Next Day), or the end of the second business day (Second Day). These options are not available for common carrier orders.

These orders must be placed before 2:00 p.m. EST to ship same day and are only available for delivery on business days (Monday through Friday). For orders shipping directly from the manufacturer, shipping cutoff times may vary.

Next & Second Day orders received after 2:00 PM EST will be processed on the following business day.

In order to maximize the products we're able to offer to you, some items on our website are not normally stocked in our warehouses. These items may be shipped directly to you from the manufacturer, or brought into our warehouse with our next stock order from the manufacturer and then shipped to you. Next Day or Second Day shipping availability and cutoff times may vary on these items.
Return policy
With a few exceptions, all regularly stocked products can be returned within 14 days of receipt as long as the product is unused and in its original packaging.We are unable to accept returns for consumable products and customizable products. Similarly, not all Special Order products or products shipped directly from the manufacturer ("Drop Ship Products") can be returned. Any return requests for Special Order or Drop Ship Products must be issued by our Customer Solutions Specialists.