---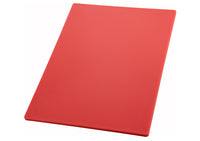 Use the Winco CBRD-1520 Red Plastic Cutting Board 15" x 20" x 1/2" to provide staff with a safe and sanitary cutting surface. Following the HACCP color-coding system, this red cutting board should be assigned for use with raw meat to lower the risk of cross-contamination.
Perfect for high-volume commercial settings, this top quality BPA-free product is made from exceptionally durable polyethylene. This NSF listed plastic cutting board not only protects countertops but is also easy on your knife's sharp edge.
Polyethylene construction
Follows HACCP color-coding system, red for raw meat
BPA free
NSF listed
Dimensions: 15" x 20" x 1/2"