---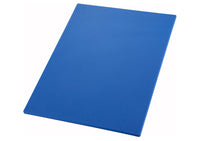 A must-have in any busy commercial kitchen, the Winco CBBU-1520 Blue Plastic Cutting Board 15" x 20" x 1/2" is a safe platform for a variety of food prep tasks. This exceptionally durable cutting board boasts a tough surface that won't dull your knife's sharp edge.
Made from top quality polyethylene, this BPA-free item is exceptionally durable and has unparalleled resistance to stains and odors. This NSF-listed blue cutting board should be used for seafood only, following the HACCP color-coding system, to minimize cross-contamination.
Polyethylene construction
Follows HACCP color-coding system, blue for seafood
BPA free
NSF listed
Dimensions: 15" x 20" x 1/2"