---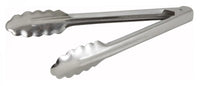 Use the Winco UT-9 Stainless Heavy Weight Utility Tong 9" when tossing salads, turning steak on the grill, and more. These multi-purpose tongs have a scalloped edge to securely hold even the most delicate foods and a long handle for touch-free service.
Crafted from stainless steel, these tongs are easy to clean and will endure daily use.
Heavy stainless steel construction
Scalloped edge
Coiled spring
Dimensions: 9"